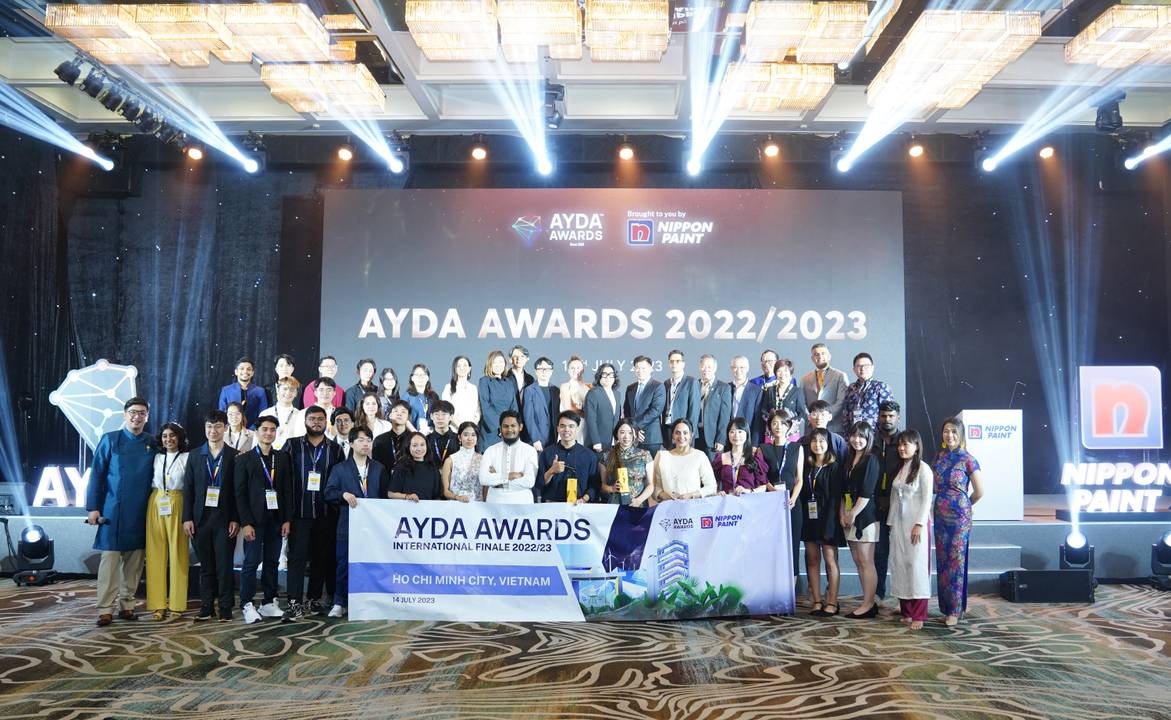 Group photo of the AYDA Awards 2022/2023 winners, finalists and judges.
Singapore – One of Asia's leading paint and coatings solutions companies, Nippon Paint has unveiled the winners of the AYDA Awards 2022/2023.

The AYDA Awards 2022/2023 is one of the longest running and largest student-centric design competitions, aimed at budding designers in the fields of Architecture and Interior Design.

The International Finale took place in Landmark 81, the tallest building in Vietnam and was attended by AYDA judges, mentors, industry professionals and international finalists.

This year, the title of AYDA Designer of the Year went to Tsai Pei-Chi from Taiwan, China and Arya Putra from Indonesia in both the Architectural and Interior Design categories respectively. Both win an all-expense-paid three-week trip to attend Harvard University's Graduate School of Design's Design Discovery Programme in Boston, USA worth up to USD 10,000.

"AYDA celebrating its 15th anniversary is a testament to our ongoing dedication to raising socially-conscious designers and connecting passionate design communities. We are also grateful to the mentors and judges for their unwavering support. Nippon Paint is truly inspired by the phenomenal entries and achievements this year and we look forward to bringing this platform to greater heights in the next edition," said Wee Siew Kim, Group Chief Executive Officer, NIPSEA Group and Co-President, Nippon Paint Holdings Group.


Sub-awards recognises other outstanding entries, namely, the Nippon Paint Colour Award, Best Sustainable Design, and Best Design Impact. The winners for these titles took home cash prizes of USD 1,000. This year's panel of judges also awarded an additional Honourable Mention to a finalist from the Architectural Category who took home a cash prize of USD 500.

"My late grandfather inspired this project, so winning this award means a lot to me. He was my motivation throughout the AYDA journey. I am truly grateful to the judges for seeing my heart in this project and considering me worthy of the AYDA Designer of the Year title," Tsai Pei-Chi, AYDA Awards Designer 2022/2023 (Architectural Category).

"My project is more than just a space. It is a hub for the Lebak Siliwangi community to come together while tackling the issue of textile waste. I hope my capacity as a designer can help create a design solution for the community. By providing a space for multiple generations of the community to come together, I hope I can create positive change through collective collaboration and action. I'm so grateful to everyone who has supported me and this project," Arya Putra, AYDA Awards Designer of the Year (Interior Design Category).

Source: https://seab.tradelinkmedia.biz/publications/6/news/4766